---
Jewish Calligraphy and Illustration Studio
---
The scent of Ketoret is the place where the scent meets the Ketoret, which is to say the smell of it all, if you know what I mean. And what else could I mean, meaning what I say and saying what I scent. Ketoret.
I live in the hills of Biblical Shilo, overlooking the valley and the site where once Hana and Eli the Cohen lived and breathed. I have a small workshop, out of which flows paintings reflecting the hills, the air, and the re-emergence of Am Yisrael.
Resting on the words of the Tora and the Prophets, I try to develop themes which reflect the expression of God in our lives, and the powerful things that have and are happening here in this land.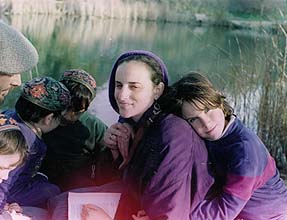 This site contains a collection of my work. The pieces offered are high-quality color reproductions, at very reasonable prices. In some cases, original pieces are also available. If you would like to commision a piece, please contact me by email.

I will be happy to open a discussion as to style, verse, and other possibilities. I paint because I feel that one of the ways I can express my position as a conduit between the land and God, is to express the beauty of God's world and his word and how they interact.

I can be reached by email at ketoret@gmail.com, or by regular mail:

Tamar Spero
Shilo
Mobile Post Efraim
44830
Israel

Tamar can also be reached by telephone at:
In Israel: 02-9942156
Outside of Israel: 972-2-9942156